LED High Bay Light - Kernel Series - Reliability Test Part2
Model Tested: HB-K200W | Electric Rating: 100-277V, 50/60Hz | Test Date: 2019.6.21-2019.6.28
Test Standards and Test Results of Kernel Series LED High Bay Light
| | | | |
| --- | --- | --- | --- |
| S/N | Test Item | Reference Standard | Result |
| 1 | Electrical parameter test | UL 1598/8750 | Pass |
| 2 | Hi-pot test | UL 1598/8750, TUV 60598 | Pass |
| 3 | Grounding test | UL1598, TUV 60598 | Pass |
| 4 | Surge protection test | IEC 61000-4-5, GB/T 17626.5 | Pass |
| 5 | Weight bearing test | UL 1598 | Pass |
| 6 | Drop test | GB/T 4857.5-92 | Pass |
| 7 | Sweep vibration test | IEC-EN: 60598 | Pass |
| 8 | Waterproof test | IEC-EN: 60598 | Pass |
| 9 | Salt spray test | GB/T 2423.17 | Pass |
| 10 | High ambient temperature test | UL 1598, IEC/EN: 60598 | Pass |
| 11 | Low ambient temperature test | UL 1598, IEC/EN: 60598 | Pass |
| 12 | On-off test | GB-T/24908-2010 | Pass |
| 13 | Aging test | Internal standard | Pass |
| 14 | High input voltage test | GB-T/24908-2010 | Pass |
| 15 | Low input voltage test | GB-T/24908-2010 | Pass |
| 16 | Insulation resistance test | GB7000.1-2015, IEC 60598-1:2014 | Pass |
| 17 | IK impact test | GB-T/2423.55 | Pass |
Test Sample Picture: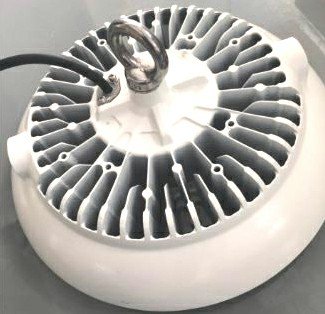 ---Test Item 6. Drop Test---
ISO2248-1985, GB/T4857.5-92
Drop test platform, electronic scale
Drop Height Selection Standard:
Total Weight (kg)
≦10kg
10-20kg
20-30kg
30-45kg
Drop Height (mm)
760mm
610mm
460mm
310mm
Test sample weight is 3.5kg, then the drop height is 760mm
With the sample as the standard package, there are a total of 10 planes, as shown in the following picture, which are located on the A axis (left and right), B axis (upper and lower), C axis (front and rear), X (diagonal), Y (diagonal).
Drop each plane of the package freely from the height of 760mm, in the following order

Model No.
Check List
Description
Result
Test Date
HB-K200W
Function
Performance OK
Pass
2019.6.28
Outlook
No damage, no deformation
Pass
2019.6.28
Construction
No screws fall off
Pass
2019.6.28
---Test Item 7. Sweep Vibration Test---
IEC/EN: 60598
ES-6-230 electric vibration test system
Fix the test sample on the frequency sweep shaking table according to the normal placement mode, adjust the frequency and amplitude according to the standard requirements, and observe the sample after 0.5 hour of vibration.
No parts falling off, no cracking, and the Industrial LED High Bay Lights can work normally.
Model No.
Test Condition
Test Date
Test Result
HB-K200W
Frequency
10-100Hz
2019.6.22
Pass
Accelerated Speed
3G
Duration
0.5 hour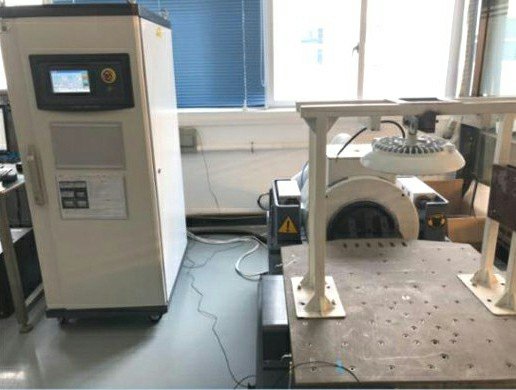 ---Test Item 8. Waterproof Test---
IEC/EN: 60598
YFW-5/6 flushing test chamber
IPX5 duration: 15min;
Water flow rate: 12.5 ±0.626L/min;
Test stand rotation speed: 1rpm
Test distance: 2.5-3m
Put the sample in aging test for 1 hour, then fix it on the waterproof test rack. When the test is finished, light up the Industrial High Bay for 30min and then observe.
Upon visual inspection no water droplets or fog in the interior of the lamp, and the lamp can light up and work normally.
| | | | |
| --- | --- | --- | --- |
| Model No. | Test Item | Result | Test Date |
| HB-K200W | IPX5 | Pass | 2019.6.22 |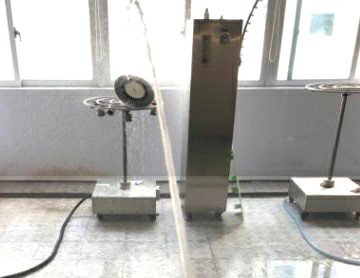 ---Test Item 9. Salt Spray Test---
GB/T2423.17
Programable salt spray machine
1. PH setting: 6.5-7.2
2. Internal test ambient temperature: 47±1℃
3. Pressure of pot: 1.0±0.01kgf/cm²
4. Test duration: 48 hours
No corrosion or crack found on the warehouse led lighting high bay sample
| | | | | |
| --- | --- | --- | --- | --- |
| Model No. | Test Duration | Description | Test Date | Result |
| HB-K200W | 48 hours | No corrosion or crack found on the lamp | 2019.6.24 | Pass |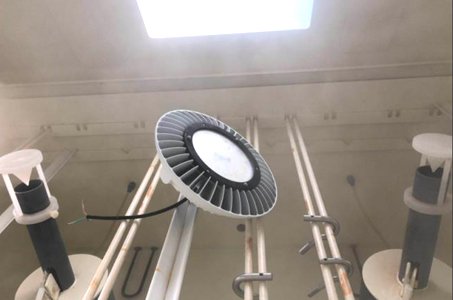 ---Test Item 10. High Ambient Temperature Test---
UL 1598, IEC/EN: 60598
Programable constant temperature and humidity chamber
Put the Industrial Warehouse Light high bay in the test chamber with Ta=50℃ and keep working for 8 hours
The LED High Bay Light can work normally with no malfunction
| | | | |
| --- | --- | --- | --- |
| Model No. | Test Temperature | Test Date | Result |
| HB-K200W | 50℃/100%RH | 2019.6.26 | Pass |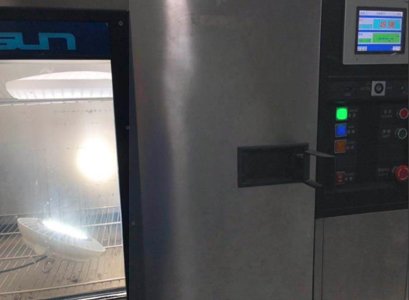 ---Test Item 11. Low Ambient Temperature Test---
UL 1598, IEC/EN: 60598
Programable constant temperature and humidity chamber
Put the sample in the test chamber with Ta=-20℃ and keep working for 8 hours
The LED High Bay Light can work normally with no malfunction
| | | | |
| --- | --- | --- | --- |
| Model No. | Test Temperature | Test Date | Result |
| HB-K200W | -20℃ | 2019.6.26-2019.6.27 | Pass |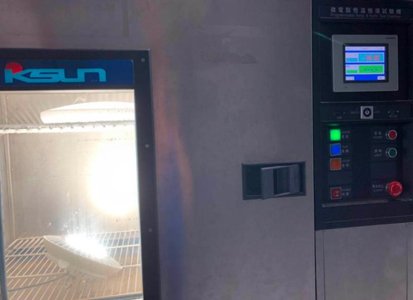 Work Time :
9:00-18:00(Beijing time)
Telephone :
+86-755-23206659(Working time)
Factory Address :
B802-124, Plant 1, Tianan Digital Innovation Park, No. 524 Qinglin Road, Longgang District, Shenzhen, 518000, China