LED Street Light
What are LED Street Lights? LED Street Lights are designed to improve the safety of road and streets, reduce light pollution and saves energy up to 75%. For the last several decades, the street lights used in many countries and regions are HPS bulbs (high pressure sodium techlogy lamps) which produce orange-yellowish light. With the features of long-lasting and energy-efficient, LED Street Light is more and more in use. Unlike the old fashioned HPS/HID bulbs, LED Street Lights are designed to provide only the amount of illunimation needed and the lighting direction can be controlled by optical lens. Thus reduces glare and light pollution to the surroundings. In addition, LED Street Lamps can be intelligently dimmed to further save energy. If equipped with a daylight sensor, you can also control the switch of the lamp according to the brightness of the environment.
What are the advantages of LED Street Light?
The increasing complexity of transport infrastructure has increased the need for better illumination on streets and roads to ensure smooth traffic and cost-effective street safety. For busy streets and highways where visibility is important, road lighting is considered to be an important safety function. Proper lighting is expected to reduce night crashes, meanwhile improving the safety of drivers, cyclists and pedestrians.
LED Street Lights are mostly used to replace HPS lamps. In order to understand the advantages of led street lamps more clearly, let's take a look at the comparison between LED and HPS (high pressure sodium)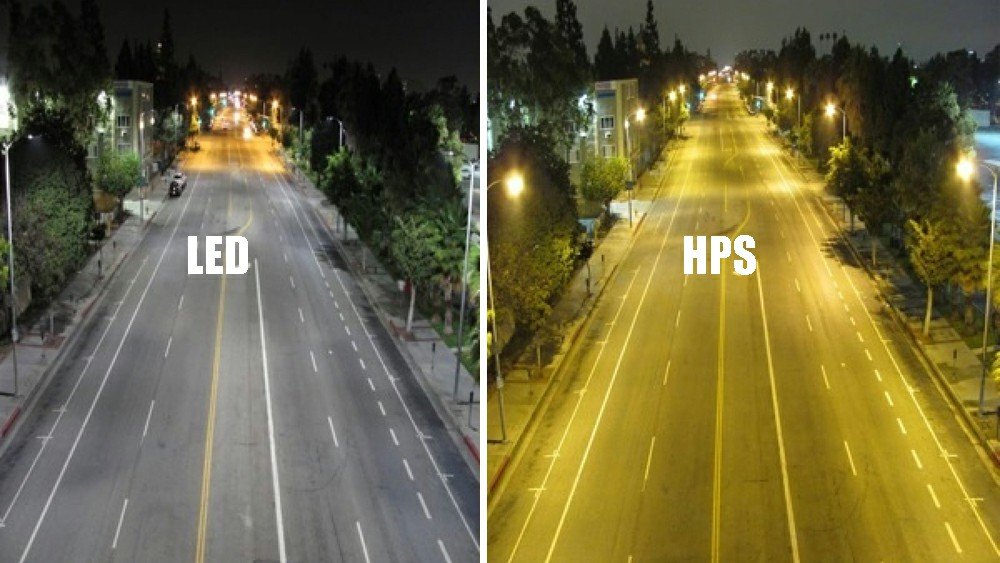 | | | |
| --- | --- | --- |
| Feature | LED Street Light | High Pressure Sodium (HPS) |
| Start Up | Instant on | Warm-up time about 15-20 minutes |
| Lifespan | 50,000 Hours, reduce the re-lamping cost and frequency thus saving multiple replacement cost | 14,000 Hours |
| Lighting Direction | Light is controlled by optical lens thus reduce light waste, normally we offer120°, 75×150°, 60×140°, 65×145° | Omnidirectional lighting and this requires the light to be reflected and redirected which causes light spillage and reduces the utilization rate of light |
| Color Temperature | Ranging from warm white to daylight white, 2700K/3000K/4000K/5000K | Orange-yellowish light, about 2200K |
| Color Rendering Index (CRI) | Typically above CRI 70 or CRI 80, makes the illuminated objects look more close to its real color | Typically around 25 makes the illuminated objects look more different to its real color |
| Efficiency | 130 lm/w and the technology is still updating | 110 lm/w, but due to the omnidirectional light output the actual efficiency is lower |
| Shock Resistance | LEDs are solid state lights (SSLs) that are not easy to get damaged by physical shocks | Relatively fragile and when broken it requires special handling, because they contain hazardous materials such as mercury |
From the comparison of the above information, we can see that the performance of high power LED Street Lights is better than HPS in many aspects. LED Street Lamp, which does not contain hazardous substances such as mercury, is a step forward in energy saving and environment protection.

With the progress of urbanization and the improvement of infrastructure, the technology for road lighting is becoming more and more professional and humanized. The application of LED Street Light Outdoor will be more and more extensive. It will lead a new era of road lighting.
Get in Touch with us
Still have Questions
Our Headquarters
Work Time :
9:00-18:00(Beijing time)
Business Phone :
+86-755-23206659(Working time)
Factory Address :
B802-124, Plant 1, Tianan Digital Innovation Park, No. 524 Qinglin Road, Longgang District, Shenzhen, 518000, China