LED High Bay Light
We offer a wide range of LED High Bay Lights for various application cases and for different lighting requirements. We keep exploring in different fields and keep up-to-date technology to offer better and better lighting solutions. These lamps are designed to replace conventional LED High Bay Light and Metal Halide HID, HPS & Mercury Vapor with significant savings from electricity bills and go green. LED High Bay Lights are widely used in many industries including assembly line, storage, warehouse, workshop, factories, gym, exhibition hall and indoor stadium. It can be used anywhere that requires lighting from high ceilings. Most common is the use as LED warehouse lighting.
Know More about High Bay Lights
Mounting height:
High Bay Lights is used to lighting up spaces from high ceilings, normally from 6 meters and above. Whereas led low bay lights are used when the mounting height is below 6 meters.
How do I choose the right beam angle for my place?
Standard beam angles include 60°/90°/120° by choosing different lens on the lamp. For special cases the beam angle can be customized based on specific application conditions, like illumination on wall/rack/ground. Consult our sales before ordering please.
Do I need additional reflector for the lamp?
It depends. The lumen output from the lens type is more even. From cost side, with an additional reflector the transportation cost is increased. With an aluminum reflector the light goes directly to the ground, while acrylic reflector with prismatic design brings diffused lighting effect and light up not only the ground but also the surroundings like shelves.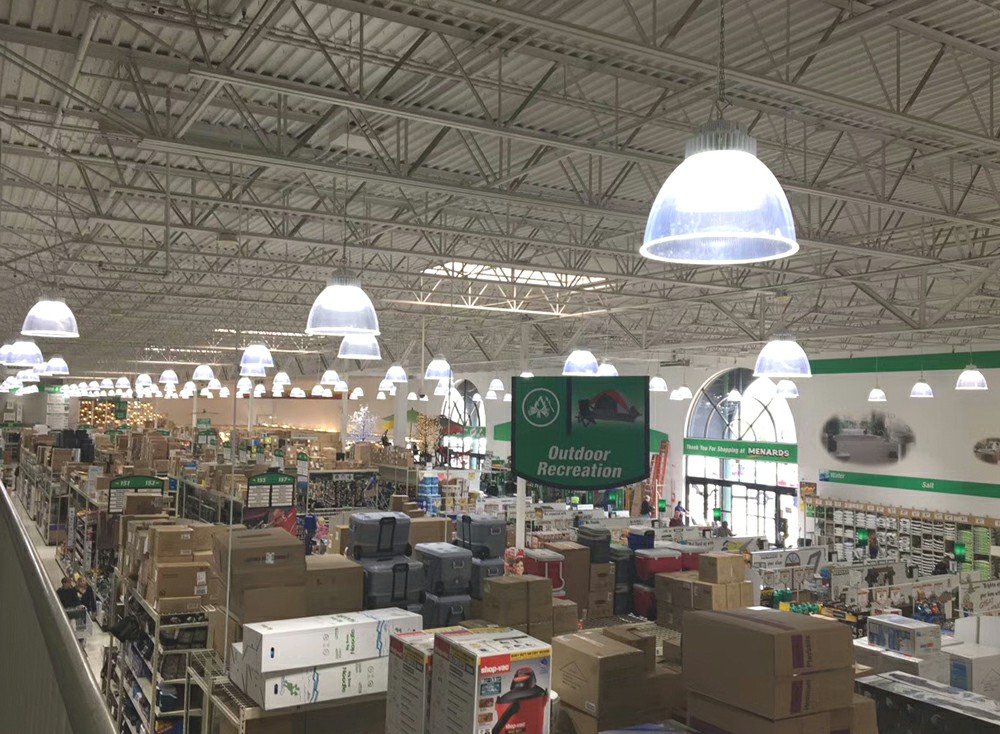 What are the benefits of using LED High Bay Lights?
Energy efficient comparing with traditional lamps HID, HPS lamps

Fast return on investment with payback 1-2 years

Longer lifespan of 50,000 hours which is 5 times of HID

High reliability using brand materials thus reduce maintenance cost especially in hard-to-reach places

Built-in surge protection

Less heat to the environment since LED produces much less heat due to high system efficiency thus reduce air conditioning cost and save the earth

No mercury

Suitable for industrial areas with large voltage fluctuations

Brightly illuminated environment with no dark spot and enhance people's spirit and efficiency

Instant start with no delay
Make savings on electricity bills and go green, go for LED High Bay Light from today.
Get in Touch with us
Still have Questions
Our Headquarters
Work Time :
9:00-18:00(Beijing time)
Business Phone :
+86-755-23206659(Working time)
Factory Address :
B802-124, Plant 1, Tianan Digital Innovation Park, No. 524 Qinglin Road, Longgang District, Shenzhen, 518000, China